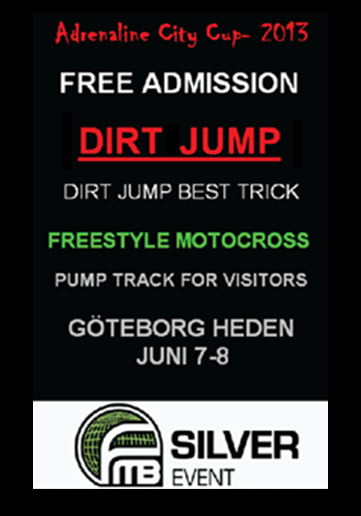 7 - 6 June 2013 Gothenburg will be attended
by the world´s biggest tour in Dirt Jump.
The elite of cycling in the wildest and
toughest race FMB WORLD TOUR will
com to Sweden to participate in the
Gothenburg event Adrenaline City Cup 2013.
During Friday and Saturday 7 to 8 of
June 2013, we will arrang two contests with
the best riders in the bike branch Dirt Jump.
Adrenaline City Cup is Sweden's first and
largest bike race and is part of the World Cup
series FMB WORLD TOUR 2013 with a Silver
Event. By Adrenaline City Cup taking part of
FMB WORLD TOUR Gothenburg will be one of
the cities in the vworld noted in the sport of
cycling. Sweden has some of the best dirt
racers with Martin Söderström final 2 pl. and
Linus Sjöholm 19 pl. 2012,

Other Swedes.
Anton Thelander 23 pl.
Teo Gustavson 41 pl
Max Fredriksson 59 pl.
Kevin Käll 85 pl.

With these topp results we will
arrange the following events and activities.

Dirt Jump FMB WORLD TOUR
Saturday 8/6 09:00 to 12:00 Training
Saturday 8/6 13:00 to 16:00 Qualifying
Saturday 8/6 17:00 to 20:00 Final

Dirt Jump Best Trick.
Friday 7/6 09:00 to 16:00 Training
Friday 7/6 17:00 to 20:00 Race

Freestyle Motocross
MONSTER ENERGY
Showe between training and competitions


Pump Track `Try´
Come to Göteborgs-Posten Pump Track path and try.
We have bike and helmet for lending. Welcome